SHIELDS® Windshields has a line of polycarbonate products with 3 different gauges, ¼" 3/8" and ½". Polycarbonate is often called Plexiglass, Lexan, or safety glass, these are common misnaming's. Our ½" doors are also known by others as duty doors, forestry doors, super duty doors, and demo doors. All of these names are referring to the ½" door we offer or a laminated door for forestry work, we do not offer the laminated door at this time.
260x Stronger Than Glass
1/2 The Weight of Glass
Scratch Resistance
Optically Correct
Our exclusive SUPERCOAT™ hard-coat gives you the highest level of performance available today. SUPERCOAT™ repels water better than any temporary window treatment and will withstand the use of wipers when necessary.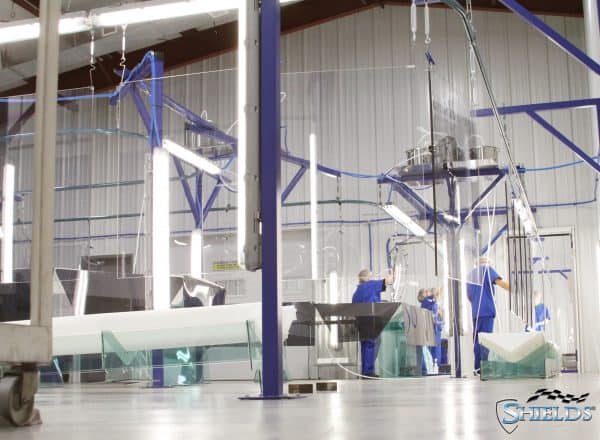 SUPERCOAT™
All windows and windshields unless specified are post-coated, applied after polycarbonate has been formed. Our coating has superior abrasion and scratch resistance as well as solvent and chemical resistance. Our coating is done in a 3,500 Sq. Ft. Class 10,000 environment clean room with multiple coating lines & processes.
Kubota Excavator Windshield: KX040 UPPER AND LOWER Replaces Kubota Excavator Windshield Glass  # RD558-96420- # RD451-46440 Offered in 1/4", 3/8" & 1/2" CLEAR POLYCARBONATE - SUPERCOAT™ BOTH SIDES. Lead time: 25-30 days - Made to order. To buy both upper and lower windows, add one window to your cart then add the second as a separate purchase. Not sure what thickness to get?

Click here for info.