SHIELDS® Windshields has a line of polycarbonate products with 3 different gauges, ¼" 3/8" and ½". Polycarbonate is often called Plexiglass, Lexan, or safety glass, these are common misnaming's. Our ½" doors are also known by others as duty doors, forestry doors, super duty doors, and demo doors. All of these names are referring to the ½" door we offer or a laminated door for forestry work, we do not offer the laminated door at this time.
260x Stronger Than Glass
1/2 The Weight of Glass
Scratch Resistance
Optically Correct
Our exclusive SUPERCOAT™ hard-coat gives you the highest level of performance available today. SUPERCOAT™ repels water better than any temporary window treatment and will withstand the use of wipers when necessary.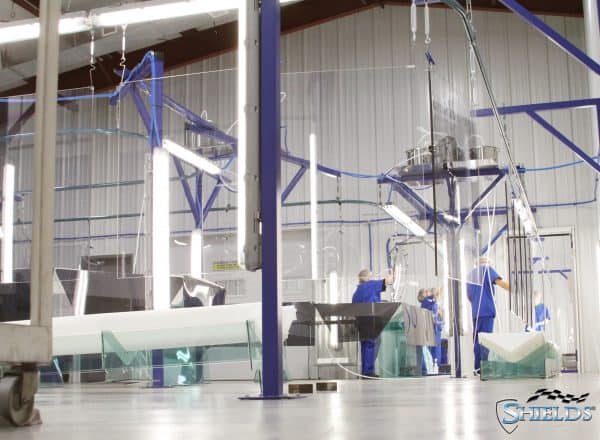 SUPERCOAT™
All windows and windshields unless specified are post-coated, applied after polycarbonate has been formed. Our coating has superior abrasion and scratch resistance as well as solvent and chemical resistance. Our coating is done in a 3,500 Sq. Ft. Class 10,000 environment clean room with multiple coating lines & processes.
Offered in 1/4", 3/8" & 1/2" Replaces OEM Glass: 182122 CLEAR POLYCARBONATE - SUPERCOAT™ BOTH SIDES - MILLED EDGES. Includes Gehl skid steer windshield for models: CTL60 CTL80 Lead time: Our lead times below are based on our production schedule and the demand.

We may have these in stock.

You can text or call 765-913-8121 to check in stock lead times. We are sorry for the inconvenience, but we want to give you the most accurate information. ½" – 90 business days 3/8" –90 business days ¼" – 90 business days - Made to order. Not sure what thickness to get?

Click here for info.

FORM ~ FIT ~ FUNCTION of OEM glass with

every thickness

- no extra hardware needed!